Rhythm in the Round Drum Circles: In-the-moment percussion music created by adults and children of all ages and abilities. Drum circle magic that happens when we get together with instruments and trust that the music we create will be good and fun!
Since a few months after dawn on Jan. 1, 2000, Heather Poyner has guided people ages 2-102 in the creation of this music and this fun--at Girl Scout camps, public and charter schools and Adult Daycare facilities and private parties throughout southeastern Wisconsin and northern Illinois.
As a rhythm facilitator Heather shares her enthusiasm for community drumming: a passion for uniting people with their "inner drummer" as they connect with others in drum circle settings. As you navigate the pages of this website you will discover opportunities for adding some new rhythms to your life. Enjoy!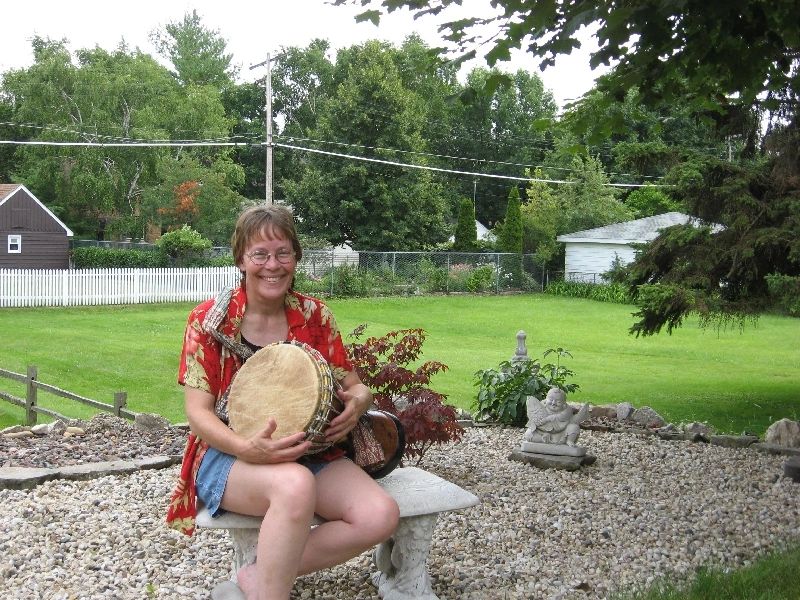 Second Saturday Drum Circles Return!
Prelude: Long ago, (2001) but not far away, Rhythm in the Round Drum Circles of Kenosha began hosting a community drum circle on the second Saturday of each month.
We started in our living room, which was soon filled to capacity with drummers and other like-minded spirited folks playing hand drums, Native American flutes, didjeridus.
In 2005 we moved operations down to our renovated basement and the fun continued.
In 2008 (yes, at the beginning of the Great Recession), Heather opened The Drum Hut, a retail store downtown Kenosha. There she sold a few drums, reheaded a few drums, offered beginnner djembe lessons, and held wild and crazy drum circles--complete with Black Rose belly dancers. We also offered workshops and events like Taiko Drumming, Didjeridu teachings and the poetry of Rumi and other sufi teachers.
2010-2013: The Drum Hut began sharing space with Yoga & Friends, a long-time downtown Kenosha yoga studio under the direction of Christina Ptak. More music and circles ensued.
2013: The Drum Hut folded its tent poles, in part due to the availability of instruments online. Drum circles continued intermittently at the lake in the summer and on New Year's Day at Southport Beach house.

CURRENT Second Saturday Circles

SEPTEMBER THROUGH MAY 2020:
Yoga & Friends, 5721 6th Ave., Kenosha, WI

DATES: Feb. 8, March 14, April 11, May 9

What Else: In exchange for Christina's space (which includes chairs, heat, and lights) Rhythm in the Round is offering her money. This means that in order to offer a Community Circle we need financial support from the Community!
Please consider making a freewill donation when you join us!
As always, all ages are welcome and all sorts of hand drums are available for sharing. Each month we will also be exploring new drum rhythms.
For more info call Heather Poyner: 262-914-9352 or find me on Facebook
























Heather Poyner, rhythm facilitator



The Gong Girls!
"GongSong Meditations"

Who we are: Heather Poyner, Michele Ozment, Joy Wolf

What we do: We weave hypnotic, sound tapestries using harmonic gongs from Germany and China, Tibetan bowls and even a glockenspeil!
Enjoy gentle movement guided by Christina Ptak or relax into a place of deep peace...

When we do it next: 10:30 a.m. Saturday, April 6, 2019
Where it's happening: Yoga & Friends, 5721 6th Ave. Kenosha
Cost: $20

Call: Yoga and Friends, 262-484-2487 or Heather, 262-914-9352

Gong also can be heard after yoga classes: 5:30-6:30 p.m. Mondays and 9-10 a.m. Fridays @ Yoga & Friends

For more info:
poynerheather@yahoo.com OR CHECK OUT Heather Poyner/the Drum Hut on Facebook!